From relative obscurity to international fame, it's been one hell of a journey for Mumbai's [Images] own Freida Pinto [Images], the irrepressibly gorgeous heroine Latika in Danny Boyle's Academy Awards champion Slumdog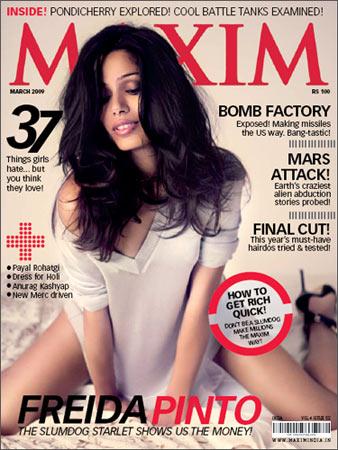 Millionaire .

Whether she's deftly answering The Tonight Show host Jay Leno's humorous questions or dominating red-carpet coverage with her stunning designer gowns and undeniable beauty, Ms Pinto has quickly forged her place in tinsel town.

Portraits in Vanity Fair, movie offers from Woody Allen , the love and devotion of adoring fans; the girl really and truly has it all.

Now, finally, India has woken up to this home-grown superstar.

Maxim India's March 2009 issue is all set to hit newsstands, and the lovely Ms Pinto's covershot is a picture of bliss.

Wearing an oversized sweater and little else (save the seductive, six-inch black heels), Freida's expression is deliciously ambiguous, a mix of naughtiness, playfulness and something else that's impossible to pinpoint but easy to love. Unlike the various awards ceremonies and late night talk shows, where she has been all dolled up and decked out, the Maxim cover shows us a different side of Freida, a more natural one, in which her inherent beauty literally glows. Wah!

Vogue India, too, has gotten in on the act. At the moment, Mumbai's hoardings are splashed with Freida's likeness, from her recent covershot with the up-scale fashion mag.

And what a photo it is, too: elegant attire, immaculate tresses, dripping jewellery, blood red lipstick and an evocative gaze that's one part wistful and two parts come-hither.

Not only is Freida stunning, she's versatile, as these two wildly different yet equally appealing photographs demonstrate.

Freida Pinto, unstoppable.